The benefits of a large home environment for two or more people
Bayswater holiday house Paihia
Reconnect with yourself, your family, or your friends by taking a complete break and enjoying the simple things in life – eating together, swimming in the sea, kayaking, taking walks on the beach, hiking through the countryside, cycling the twin coast or just relaxing with a glass of wine and a book.
Bayswater holiday house provides the perfect base for your activities and located oppposite Paihia's beautiful sandy beach within a few minutes easy walking distance to shops, restuarants and cafes. Simply park the car and take a stroll in the sunshine.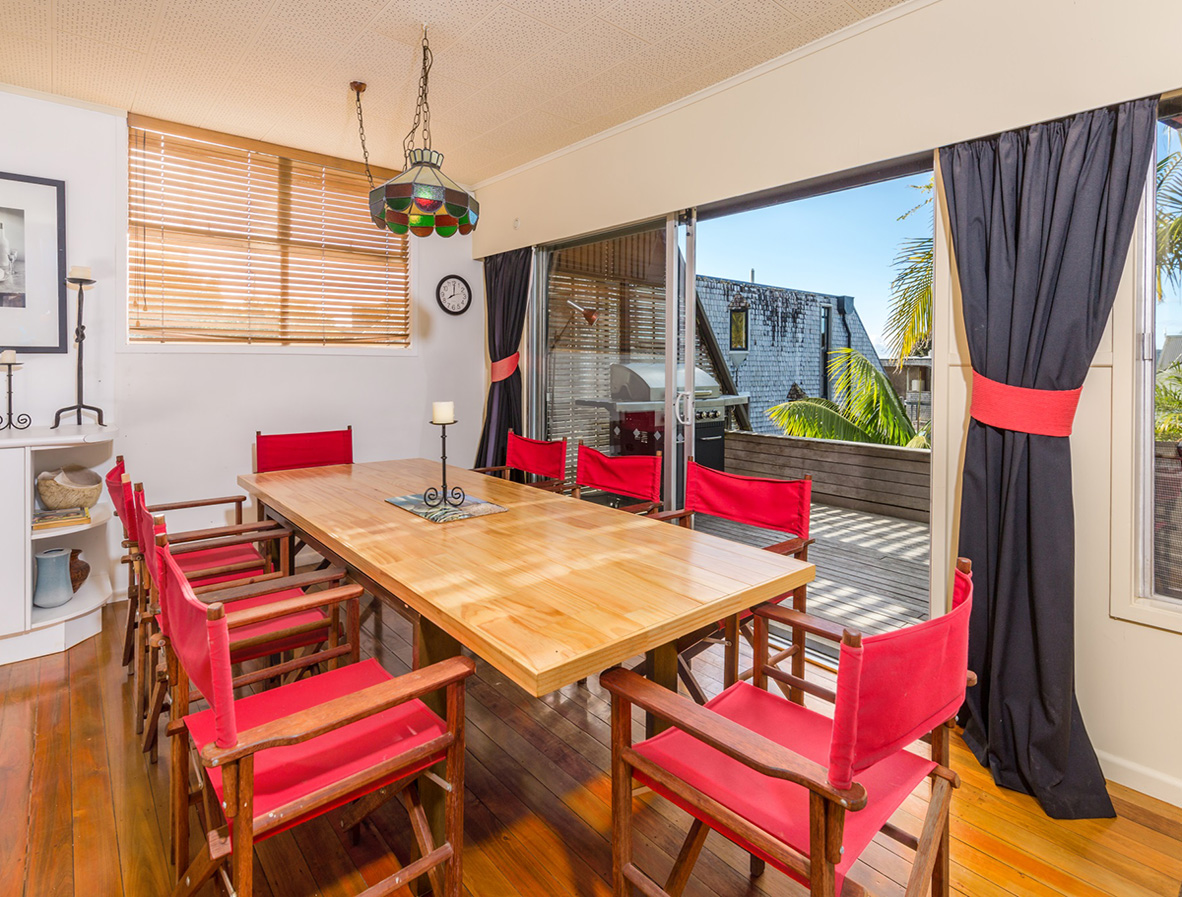 Only a 200 metre flat walk to Paihia Village and Wharf – beach across the road.
Bayswater Holiday Home has two levels – top floor open plan kitchen, dining and lounge plus bathroom, huge deck with BBQ, great views. Below four double bedrooms – three with Queen Beds and one with a Double Bed – sleeps 8 – Master Bedroom has an en-suite bathroom.  There is also another bathroom and a lounge area with 2 king singles.  So up to 10 in total.
Bayswater is a home that can accommodate up to 10 guests but we have priced it so two people or more can book it and get the advantage and space of a large home but not pay for what they would not use.  All we do is lock off rooms that won't be used. For example a couple staying will have the Master Bedroom downstairs with en-suite bathroom and the entire first floor – heaps of space.  With two couples, one couple will have the Master Bedroom with the en-suite bathroom and the second couple will have the second bedroom with their own bathroom adjacent and so on with another two bedrooms and two singles in the downstairs lounge area.  Please contact us if you need more information.
The House Rate is for 2 guests and extra guests are charged $50 per guest per night. There is an additional charge for cleaning of $80 per stay and Linen and Towels are complimentary.
Beachfront at its best
Bayswater is waterfront holiday home accommodation right in the heart of the Bay of Islands. The house is across the road from the beach and a 200m walk to Paihia Village and the wharf. The holiday house is the perfect location if you're planning to ride the Waitangi Mountain Bike Park – the bike park base is a short 4km ride from Bayswater. We are also well located for the Twin Coast Cycle Trail. To find out more about things to do in the area visit our activities page.
Waterfront dining within moments
Welcome to JFC, our very own fully licensed restaurant, with indoor / outdoor dining on Paihia's waterfront just a moments walk from Bayswater with stunning views out across the bay.
Please see the link below to our restaurants website for opening hours, menus, etc. Bookings are not needed for parties of less than 8 – just head on in!!
The food is amazing and we also do takeaways – please phone (09) 402 5113 or visit our JFC website.
"Thank you for offering such a nice house. We really enjoy staying here. Merry Christmas and have a nice New Year!"
"Very calm lovely environment. A feeling of home away from home – Many Thanks !"
"Great stay to the New Year for all of us. We have had a fab time. Great house and lovely weather – hopefully we will return"
"thank you – awesome family holiday! What a beautiful part of the world."
"Thank you for opening your wonderful home to us – it was perfect."
"Chester and Louise you have done it again, provided a wonderful house that has been our base for 6 days. The 20th Brown Brothers Golf Classic has come and gone. Another hard fought contest at the Waitangi Golf Club. In between pars and birdies we stumbled around in a Steinlager haze and enjoyed the Paihia hospitality. We hope we can do it again when the 25th BBGC come around – thank you!"
"A stunning place with absolutely everything a large family needs – very friendly and helpful owners – thanks!"
"Spectacular and charming. Thanks for a lovely stay."
"lovely stay -many thanks to Chester and Louise for their help and kindness"
"fabulous house and location – great fun had by all."
"Amazing, location and incredible house.  Love it – Thanks so much."
"Excellent thank you – great place, thanks for the awesome time considering it's June!"
"Good place for a family get together."
"Fantastic place – lots of laughs. Happy Waitangi Weekend – thanks we were lucky to be here."
"Wonderful holiday Louise and Chester – well worth the long trip up, fantastic place, we'll be back!"
"Great accommodation to suit 3 families, weather great, activities awesome, hosts very hospitable and friendly"
"We had a wonderful time. Such a great place for crowd to sit on the lovely verands at night.  Well equipped and nice clean rooms – thanks you!"